Enrolment Zone
If your permanent residential address falls within the Te Totara Primary School enrolment zone and you intend to enrol at our school, we strongly urge you to complete an Enrolment Form (ideally three months in advance). Please return the completed Enrolment Form to our School Office, along with ALL the required supporting documentation. This helps us plan for future staffing.
Many thanks.

School Zone
All students who live within the home zone described below*
(and shown on the zone map)
shall be entitled to enrol at Te Totara Primary School.
* The western boundary is Resolution Drive
(east side only)
, commencing at the intersection with Kay Road and heading south to the intersection with Thomas Road. Turn left into Thomas Road and travel east along Thomas Road to the intersection with Horsham Downs Road. Turn left into Horsham Downs Road and travel north along Horsham Downs Road to the Horsham Downs Road/Waikato Expressway over-bridge and then travel north-west along the Waikato Expressway
(includes south-side only)
to the Waikato Expressway/Kay Road over-bridge. The boundary then follows Kay Road west (includes Hancock Road), back to the intersection with Resolution Drive where the zone commenced.
Both sides of roads are included unless otherwise specified.
Proof of permanent residential address within our school zone will be required
(see the Enrolment Form for further clarification).
If you wish to check to see whether an address is within our school zone (or not), please phone the School Office on 07 853-0039.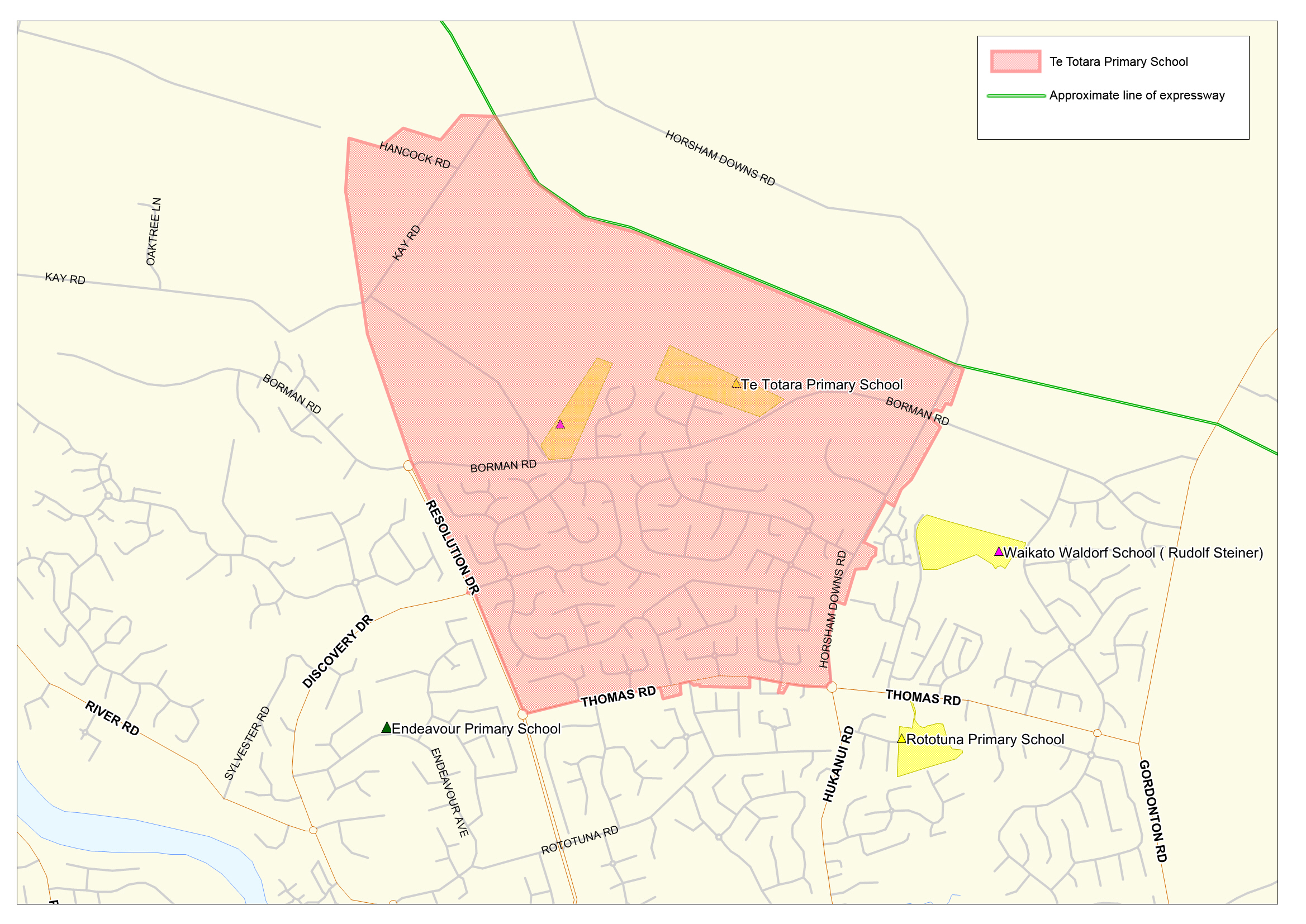 For the perimeter details of our enrolment zone and information on the priority scheme for out-of-zone enrolments: Enrolment Scheme
To check if your address is within our zone the TKI website has a tool that in enter your address into and it then pops up with the school zones your address is zoned for.