LEARNING PLAN DISCUSSION BOOKINGS & GOAL-SETTING LETTER
BOOKINGS OPEN TOMORROW
- FRIDAY 5TH MARCH, 2021 @ 9.00AM
Learning Plan Discussions will take place on Wednesday 24th & Thursday 25th March, 2021 for all students.
Each student will bring home a "Goal-Setting" letter this week which will help teachers prepare for the Learning Plan Discussions. Each student is required to return to the Goal-Setting letter to their classroom teacher by Thursday 18th March, 2021. If your original sheet doesn't make it home this week or is lost, please visit our school website www.tetotara.school.nz under the newsletters tab OR click on the following link: Student Goal-Setting Letter
We have arranged 15 minute time slots for the discussion, there will be a change over bell so that everyone is aware of timings. If you have more than one child, you might like to have a break between each interview. To ensure the smooth running of our Learning Plan Discussions, we would be grateful if all our parents/caregivers kept to the timetable. There will be an opportunity to discuss your child's progress on:
Wednesday 24th March, 2021
2.15pm, 2.30pm, 2.45pm, 3.00pm, 3.15pm, 3.30pm, 3.45pm, 4.00pm, 4.15pm, 4.30pm, 4.45pm, 5.00pm, 5.15pm & 5.30pm
Thursday 25th March, 2021
2.15pm, 2.30pm, 2.45pm, 3.00pm, 3.15pm, 3.30pm, 3.45pm, 4.00pm, 4.15pm, 4.30pm, 4.45pm (teachers break between 5.00pm-5.30pm), 5.30pm, 5.45pm & 6.00pm
How do I book a time?
To make an appointment time for your child/ren, please use our online booking system www.schoolinterviews.co.nz – our school code is dakym.
An electronic confirmation can be sent to you via email upon completion of your booking, please don't forget to include your email address and select "email" under Parent Bookings when you have booked an interview time.
If you are unable to access the internet, please phone the school (07) 853-0039 ext. 858 and leave a message with the time slot that you would prefer and Marise will collate these.
We will endeavour to give you the time as close as we can to your preference. If we are unable to assist we will go by first in first served. Please do not make arrangements directly with classroom teachers.
Who should come?
We encourage the student, and family members who have an interest in learning, to come along and discuss this with the teacher.
What will the format be?
The discussion is a general one about how the learner is progressing, areas of strength and also discussing next steps in learning and how this can happen.
Bookings close on Monday 22nd March, 2021 @ 3.00pm. Unfortunately, we will not be able to accept bookings after this date/time.
LEARNING PLAN DISCUSSIONS
School will finish at 2.00pm both Wednesday 24th & Thursday 25th March for all students. Students will need to be collected at 2.00pm - Thanks.
Further information regarding booking an interview will follow in next week's newsletter. Bookings will open tomorrow, Friday 5th March @ 9.00am
AFTER SCHOOL CARE - LEARNING PLAN DISCUSSIONS
As the whole school will finish at 2.00pm on Wednesday 24th March & Thursday 25th March 2021, After School Care will begin at 2.00pm, for those children enrolled.
Spaces are limited…. so if your child/ren normally attends ASC on either/both those days, please advise ASC two weeks in advance if you DO NOT require your booking. Otherwise, your child/ren will be booked in for the earlier start time of 2.00pm automatically on those days.
Any queries, please email Anna Herbert: afterschoolcare@tetotara.school.nz
SIBLING OUT-OF-ZONE ENROLMENTS FOR 2021
Enrolment Period of 1st July, 2021 - 14th December, 2021
The Board of Trustees are looking to accommodate, if possible, younger siblings and children of staff in the 2021 school year. To help determine this, we urgently need to have Out-of-zone Enrolment Forms into the School Office to help with this process. Please complete an OUTZ Enrolment Form for each child, which is available online from our school website by clicking the following link: www.tetotara.school.nz or by visiting the School Office.
The Board will look at the number of enrolments, the level of projected student growth and determine how many spaces for out-of-zone students are available for the upcoming enrolment period of 1st July, 2021 to 14th December, 2021. This will be completed in late May, allowing for lots of time for families to know what is happening. Further information around the number of out-of-zone spaces to be released will be communicated via the school newsletter over the next few weeks.
Please return the completed OUTZ Enrolment Form, including the relevant documentation, to the School Office by 3.00pm on Friday 19th March, 2021
FOUND ITEMS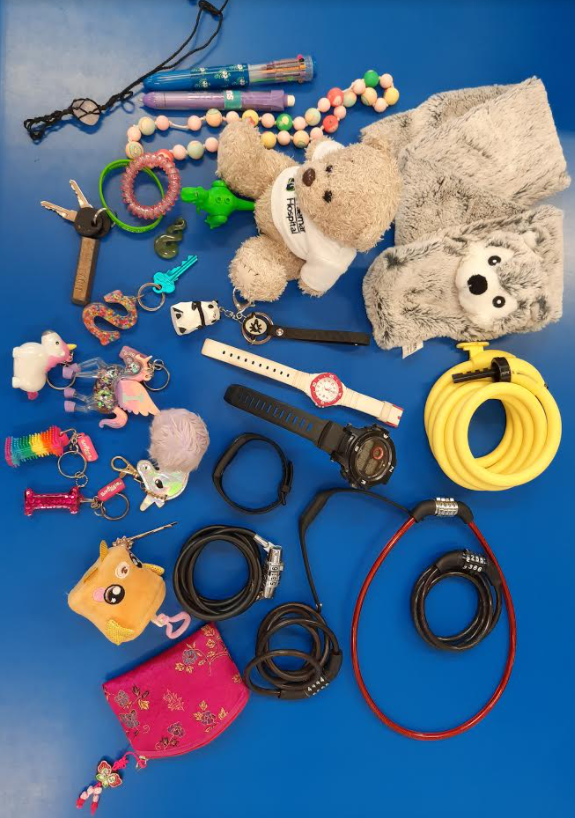 - AT THE SCHOOL OFFICE
If any of the above items belong to your child, please come to the school office to collect them.
FIRST CREDIT UNION
- NO SCHOOL BANKING THIS WEEK
A Message from First Credit Union regarding School banking this week:
The health and safety of your school community and our staff remains our priority at this time and as such we wish to advise you that we will not be visiting your schools this week to collect the school banking. We would really appreciate if you could advise your school community. We will continue to monitor the situation, and we hope to be back at your schools next week. I will keep in touch and update you once we are advised by the Government as to the move in the levels.
2021 FEES & DONATIONS PAID VIA KINDO
Fees have now been loaded onto KINDO. This online system allows you to pay for our school's fees (Mathletics/Mathseeds, Aquatics, Voluntary School Donation, Lost Library Book Costs etc) and is also the ONLY way to register/pay for your child for sports teams.
Please Note: Aquatics will be charged after your child's class has had their lessons.
FAIRFIELD CLUSTER SWIMMING (Selected Students Only)
Tuesday 16th March, 2021
Cut-off date for registration is 3.00pm Wednesday 10th March
TE TOTARA SPORTS PLAYER OF THE DAY
If you are a Coach or Manager, please email the POD to celestem@tetotara.school.nz
CRICKET
Galaxy
Superstars Shiya Gong, Yuvraaj Verma
Thunder Luka Devcich, George Conrad, Hadlee Tantrum
SCHOOL ASSEMBLY
This week's assembly will be held on Friday, 5th March, 2021 in the Matariki Hall at 2.00pm. This week our children from our Orion and Earth teams will attend assembly and our Earth 36 children will be sharing at assembly.
DATES COMING UP
Wed 17 Mar PTA Meeting
Fri 19 Mar PTA, Iceblock Day
Wed 24 Mar Learning Plan Interviews 2.15pm - 5.30pm - School finishes at 2.00pm
Thurs 25 Mar Learning Plan Interviews 2.15pm - 6.00pm - School finishes at 2.00pm
Thurs 25 Mar BOT Meeting @ 6.30pm
Fri 26 Mar School Disco - PTA (Fairy Tales & Super Heros Theme)
Fri 2 Apr Good Friday - Public Holiday
Mon 5 Apr Easter Monday - Public Holiday
Tues 6 Apr Easter Tuesday - SCHOOL CLOSED (schools only)
Fri 9 Apr PTA, Iceblock Day
Fri 16 Apr END OF TERM 1, 2021 @ 3.00pm
Mon 3 May TERM 2, BEGINS @ 8.55am
Ngā mihi,
Anne Fraser - Principal
TE TOTARA PTA NEWS
EMAIL: pta@tetotara.school.nz www.facebook.com/TTPTA
Please 'like' our Facebook page to ensure you keep in the news loop: www.facebook.com/TTPTA
PTA – WANT TO KNOW MORE?
Have you considered joining the PTA, becoming a friend of the PTA or just want to know more? Come along to our next meeting on Wednesday 17th March at 7:30pm in the Staff Lounge.
ICE BLOCK DAY
The PTA has their second ice block day of the Term coming up on Friday 19th March. To make the day a success we need at least 3 volunteers to help sell ice blocks. If you can spare an hour of your day from 12:30pm we would love to have you join us. Please contact us via our Facebook page.
SCHOOL DISCO
We have a school disco coming up on Friday 26th March. The theme will be "Fairy Tales & Super Heros" Watch this space next week for further details.
UPCOMING EVENTS
PTA Meeting – Wednesday 17th March
Ice Block Day – Friday 19th March
Disco – Friday 26th March (Details to come)
Ice Block Day – Friday 9th April
Your PTA committee: Shelley, Julyan, Rilesh, Kerry, Kerri
COMMUNITY NOTICES:
We are often asked to put Community Notices in our newsletter. Due to the large number of requests, we now have a "Community Notices" section on the notice board in the School Office, where you will find more information on the notices below. Please note that this does not necessarily imply School endorsement of these notices.
GROW WAIKATO, TECHNOLOGY - POSTPONED TO TUESDAY 30 MARCH
SPEAKERS:
Hon. Dr David Clark - Minister for the Digital Economy and Communications
David Hallett - Co-founder & Director of Company X
Kahl Betham - CEO & Executive Director of Gallagher Group
Mike Jenkins – Founder and CEO of The Instillery
Ryan Joe – General Manager of Growth at The Instillery
Rob Vickery – Founder and Managing Partner of Hillfarrance
John Hanna - CEO of Ultrafast Fibre Venue:
The Atrium - WINTEC Hamilton City Campus (Parking available in carpark building access via Ward Street on Nisbet Street Time: 4:30 - 4:45pm - Mix and mingle, 4:45 - 6:00pm - Speaker presentations and Q & A Session
Hosted by Jamie Strange, MP for Hamilton East