How to Get Rewards for our School
Listed below are companies that provide rewards for our school, and the promotional information they have provided.
Telecom is part of scheme called "payroll giving". Details about Telecom's scheme are below, however if you are employed by a large company please ask if they also run the scheme. It involves the company matching your voluntary parent donation to the school, dollar-for-dollar.
If you know of any other companies that offer rewards to schools then please let us know - executiveofficer@tetotara.school.nz.

ASB
Abacus
All products purchased from Abacus support our fundraising. They give a minimum of 20% of the purchase to our school. They sell adhesive, waterproof labels; sketch and notepads; and gourmet scented pens and pencils.
Shunt
Shunt is an online courier service for sending parcels anywhere in New Zealand. It's all done in four easy steps and the parcel prices are cheaper than any Postshop or retail courier outlet anywhere in New Zealand. Tickets are created online and Shunt donates $1.00 to our school for each parcel that is sent. Anyone can use this online system, so tell your family and friends. You can even link your Trade Me account to make Shunt your Trade Me shipment company, which can be super-easy and economical.
How to use Shunt
Go to the website www.shunt.co.nz, enter your pick up and delivery addresses

Select a courier, then print a ticket on any A4 printer
Select our school and enter this promo code each time you book a courier online,

BGM186

Click, book courier.
Vodafone
Supporting Te Totara is easy with Vodafone and Intelligent Rewards
Vodafone home line customers can support Te Totara easily by nominating our school to earn Intelligent Rewards points.
Our school will earn 1.5 points for every $1 spent on your Vodafone home line account each month.
It costs you nothing and we can use the points to get fantastic rewards such as computers, sports gear, musical instruments, school trips and more!
Simply click here to nominate our school and complete a few details. It's that easy!
Vodafone is committed to bringing its customers leading innovations and incredible value across all services. So to ensure you get a great deal for yourself and make sure Te Totara receives the Intelligent Rewards points they need, nominate Te Totara today.
Want to join Vodafone and support Te Totara? Simply call us on 0508 011 737.

Scholastic
Scholastic Book Clubs operate eight times a year.

There is an average discount of 40% across all Clubs.

Books are from as low as $2.

All book club orders earn Scholastic Rewards of 20% of net order value.

Schools can use Scholastic Rewards to buy library and teacher resources.
(Te Totara sends home Scholastic Book Club pamphlets with your children. If you choose to purchase books for your children then you are benefiting our school as well).
The Yummy Fruit Company

Shop at New World, Pak'n Save and participating Four Square stores. Purchase Yummy fruit, either individually with Yummy stickers on them or bags with cut-out labels. Bring the sticker or cut-out labels to school and hand to your child's classroom teacher. Each teacher has sheets to fill up.
Alternatively you can download your own sheet and return it to your child's teacher when it is full.
Cut_Out_Label_Collection_Sheet.pdf
The Yummy stickers provide our school with a share of the $200,000 sports prize pool from DG Sport.
Warehouse Stationery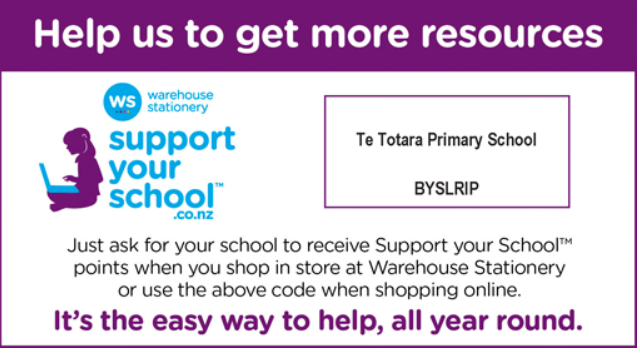 Our preferred stationery supplier is OfficeMax, Cnr Victoria & Princes Street in Hamilton (ph 838 8604). At the beginning of each year stationery orders can be placed through the online ordering system via OfficeMax/School Supplies. Simply log on to www.myschool.co.nz and follow the instructions. If your child is a new entrant during the year, a stationery list will be provided at a pre-arranged school visit. You can use the online ordering system throughout the year.
The school gains a commission for each sale that can be used to help buy resources for our children.
Telecom Employees

Are you a Telecom employee?
Telecom matches, dollar-for-dollar, donations to schools (up to a cap of $1,000 per Telecom employee) made through payroll giving.
Te Totara Primary School was one of 323 New Zealand schools that benefited from Telecom employee and matching donations last year and hope to benefit this year as well.
Payroll giving donations allow donors to access the immediate 33% tax credit available on donations to organisations with IRD done status, therefore it can't be used as a way to pay compulsory fees. It does, however, apply to our Voluntary Parent Donation.
So, if you are a Telecom employee, please ask you payroll officer about how you go about nominating our school to receive, dollar-for-dollar the amount you pay in your Voluntary Parent Donation.