Teacher Only Day Cancelled
TEACHER ONLY DAY - CANCELLED
FRIDAY 29TH MAY, 2020
Our planned Teacher Only Day has been cancelled. Our staff were due to attend a seminar with a C.O.L. Professional Development Teacher - this event has been cancelled, due to the potential of large gathering of 500 + teachers being a risk at this time.
Also, relevant to this decision is the fact that the students are only just returning to school and families to work and we need to prioritise school time and uninterrupted work time for families, at the moment.
We have another Teacher Only Day planned for Friday 23rd October, 2020 which is connected to Labour weekend, this will still go ahead.
---
Te Totara Primary School Update to all families regarding the Coronavirus. ( 14 May 2020)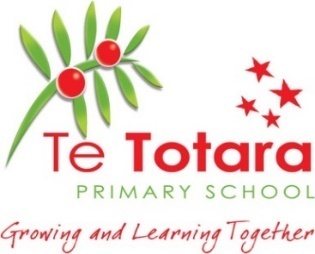 14 May 2020
Message to Te Totara Families for the return of students in Alert Level 2
Kia ora
Te Totara Primary School has been busy preparing for the change to Level 2 which will occur for schools on Monday 18 May 2020. The Senior Leadership team and staff have been busy planning for the return of your children and the resumption of our learning onsite. All school areas have been cleaned daily over the past few weeks however we will have another deep clean over the weekend, prior to opening on Monday.
The staff are very much looking forward to seeing the children, they will be warmly welcomed and well cared for. It will feel strange to be back together after nearly 7 weeks however we will be assuring them they are safe and checking on their wellbeing is the first and most important job that we will do.
In the learning areas, for a brief time the classes will be sharing some of their experiences over this challenging time, however once this has happened, everyone will be ready to start focusing on their learning.
The key health and safety principles for Alert Level 2 are:
to minimise the risk that someone gets infected in the first place
to ensure we can identify and contact anyone who has been in close contact with a person, if someone in a school is infected
understand that Level 2 is not yet business as usual.
It is safe for all students and staff to return to school in Alert level 2. Schools are safe because hygiene habits will be strong and we have put in place safe and sensible practices.
This includes regular cleaning, use of hand sanitiser, handwashing with soap and warm water, reminding and helping children with those important habits such as coughing into their elbows, handwashing and drying. No one at school needs to wear any PPE.
As with the previous Alert Levels when we resume working with all our students, we must adhere to the guidelines that have been set by the Ministry of Health and the NZ Government at this Alert Level 2. There will still be some differences in school life for our learners.
These differences are to ensure that we all remain safe and well:
● Drop off at school must occur between 8.15am and 8.55am. No students are to be on or around the school site before then. School gates are locked until that time and then again at 3:15 pm.
● The school day ends as usual at 3 pm and all students must have left the school grounds by 3.15 pm. Our cleaners will be onsite from 3:15 pm to undertake a thorough clean of all areas every day. We appreciate your support with this.
● Before and After School Care will be operating. Any student at school prior to 8.15am will need to be enrolled in Before School Care, any students at school after 3:15 pm will also need to be enrolled in Afterschool Care.
● Drop off to and pick up from school is to be at; either the main school gate, or the gate beside Orion, or in the 'drop off zone'. We ask that you say goodbye to your children at this point. This is because 'physical distancing' of 2 metres is still recommended for parents and caregivers, from people they don't know (to align with public health measures outside the school grounds). All persons on site, no matter how brief must be part of a 'contact tracing' regime. Your child is to walk themselves to their classroom pod area where the teaching team in that area will be waiting to welcome them. Students may now bike, scooter or walk to school to avoid congestion.
● If your child has an older sibling picking them up from Rototuna Junior High School after school, then we will have them waiting for their sibling under staff supervision in the 'drop off' zone. Students from Rototuna Junior or Senior High cannot come through the school. They need to come around via the walkway to the drop off zone and collect your child from there. This is to occur straight after school before 3:30pm.
● The only parents who will be able to come on site are those of our New Entrant students. For those parents, as soon you and your child get to the pod area you must leave your child with the teaching team. Contact tracing registers are to be set up and identify which children and adults are on site, in each teaching space in Matawhero, including recording if there is a different composition of children and adults during the day. Contact tracing includes recording visitors to the site, including parents and caregivers in our Vistab system.
● Please be aware that all school gates will be locked between 9:10am until 2:50 pm to ensure that no one comes onto the school site without going through the school office. This is important in terms of keeping the staff and students safe.
● The bubble systems from Alert Level 3 will be discontinued with the students able to move more freely around the school. Our morning tea and lunchtimes will be staggered to reduce the numbers of students outside playing at one time. We will have two morning tea time slots and two lunchtime time slots. There will be staff on duty through these time slots as normal.
● There will be No school lunch orders for at least the first 2 weeks back under Alert Level 2 – students must bring own lunch and a named full water bottle. Drinking Fountains are closed due to hygiene restrictions.

● The Playgrounds will be open for use during school time. Our focus will be on washing hands before and after every break time. Physical Education classes and sports activities can include access to sports equipment, but hygiene practices should be observed after playing with equipment.

● Hand hygiene and school hygiene will remain a top priority with handwashing and hand sanitiser available in each classroom, pod and toilet area. All table surfaces, door handles etc will be sanitised a number of times during the day.
● If your child is unwell, they must not come to school. Children who become unwell during the school day will be immediately isolated and sent home. Staff will not be touching the students in any way unless first aid is required, where gloves are worn. Please wait outside the School Office and a staff member will bring your unwell child to you. Your child will be signed-out by School Office staff. This guideline also applies to staff who will be going home if they are unwell.
● Any visitors to the school office will be managed on a 'one in, one out' procedure much like in the dairies in the past Alert Levels. This is to avoid close contracts and queuing and to allow us to implement our contact tracing with Vistab.
● With the return of students and all our staff back to school from 18 May, teacher focus will be on the learning programmes at school and the Home Learning provisions will be scaled back. There will be specific programmes negotiated for particular students, as detailed in the next paragraph.
Attendance Register
The Ministry of Education in their guidelines state 'expectation is that, with the exception of some students who are sick or highly compromised health conditions, all students will be attending at Alert Level 2.' If any of our family is in this situation then you are asked to notify us with DATE and TIME, to advise of your child's absence period.
Please address your email to principal@tetotara.school.nz as well as officeassistant@tetotara.school.nz and your child's teacher. With our usual day to day absences e.g. illness, appointments etc, our usual absence protocols apply whereby you notify the school on a daily basis. We must know where each child is each day and account to the Ministry through our attendance registers.
In terms of lateness to school, please drop your child off at the drop-off zone and ask them to sign-in at the School Office by themselves. School Office staff will help with this process and the normal procedure will apply; a late card will be issued.
One of the most valuable things you can do for your children is to talk with them to prepare them for their return under Level 2 conditions. Here are some good points to talk about:
Students must maintain a little distance from friends and teacher (no hugging friends etc). This is spoken of a 'moist breath' zone, for the purpose of our learners understanding this we will be using the words 'at an arm's length.'
Talk positively to the children about coming back to school, to fun times, seeing their teacher and friends again.
Assure them that school is a safe place to be and with all our sensible guidelines that are carefully thought through that they will be safe and well looked after. We all feel a little worried about this time and that is why we need to be brave by using our STAR's ideas to help us move forward together.
Thank you for entrusting your children to us, not quite school as we all know it in these early days!
School may feel a little 'unfriendly' with all the protocols however we are very hopeful that if all this goes well for us and the virus continues to be eliminated, then we can return to the close level of community engagement and involvement that we all enjoy so much.
This certainly is a different learning journey that we are on, but together in a spirit of kindness and care for each other, we will get through it. These are wonderful lifelong traits for our children to learn.
We look forward to seeing you all soon, even if it is just a friendly wave from the car and through the fence!
Thank you so much for your ongoing support.
Ngā mihi
Anne Fraser
Principal
Te Totara Primary
---
ERO Report
In November 2017, ERO visited our school. This is the Government agency that reviews all schools to examine the quality of education provided.
Click the link to view the details of the report.