---
Latest TT TV Episode
This episode of TT TV features Marama 14 sharing some Cross Country tips, Milky Way 20 share a poem and Marama 22 share their work on the Best Part of Me.
---
Te Totara Primary School Update to all families regarding the Coronavirus. ( 8 June 2020)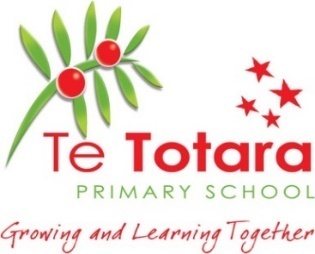 8 June 2020
Message to Te Totara Families regarding the movement of the school from Alert Level 2 to Alert Level 1
Kia ora
This afternoon the Prime Minister announced that at midnight tonight New Zealand will be moving from Alert Level 2 to Alert Level 1. The Ministry of Education will soon be informing us what this will look like for schools.
This information will most likely not be shared until later this evening which will not allow for a quick response, with an overnight change to our protocols.
It is likely that the current protocols in place at Te Totara will remain in place for tomorrow Tuesday 9 June 2020. This will allow us a chance to undertake a change that keeps everyone in our learning community well-informed and safe.
We had believed that we may have got a few days warning of a change and did not expect it to be as quick as this overnight decision today.
Throughout the past months each movement that we have made has been carefully considered, deliberately not rushed so we ensure that we have been in the best place, to keep your children well cared for at school and safe from harm.
What do schools currently know about Alert Level 1?

At this point, the following bullet points are what we believe are the key changes for schools at Alert Level 1:
There are no specific public health requirements.
There are no restrictions on personal movement, so all students and staff continue to be safe to go to school, the law requires all students to attend school.
We are no longer required to keep a contact tracing register but will continue with the usual practice of having a visitor and an attendance register (and will need to work with local health authorities to identify close contacts, should there be a case connected with the school).
Physical distancing is not a requirement but is encouraged when we are around people we don't know.
There are no restrictions on numbers at gatherings or on physical activities including cultural and sporting activities, practices and events.
There are key public health measures (Golden Rules) for everyone in New Zealand to follow.
For schools this means:
If students are sick, they should stay home (phone Healthline or their GP and get tested if they have cold or flu symptoms). Students who are at school and are sick will be immediately sent home as per earlier Alert Levels and best practise guidelines.
Continue to regularly wash and dry hands, sneeze and cough into elbows.
Soap, water and the ability to dry hands should be provided in bathrooms.
Regularly disinfect shared surfaces.
Support contact tracing efforts by displaying QR Code posters for the NZ COVID Tracer App.
Stringent self-isolation of those who display relevant symptoms of COVID-19, test positive for COVID-19, have been in close contact with someone who tests positive for COVID-19, or have been overseas in the last 14 days – Ministry of Health information for self-isolation.
At all levels, upon advice from the local medical officer of health, any educational facilities connected to a confirmed or probable case of COVID-19 must close on an individual or group basis for 72 hours to allow contact tracing, and then potentially for a further 14 days.
All the above information needs to be confirmed by the Ministry of Education to schools, which I would expect them to do either this evening or tomorrow.
Until then I am asking for your understanding and patience for one more day. Thank you for your continued support and encouragement.
We have done so well in keeping everyone safe through this time and it looks like the virus may been eliminated in our country. The next few weeks of 'normal movements of daily life' will let us know this.
Our children have been amazing in the way they have just accepted our guidelines and self-managed themselves, by growing in confidence and independence to come into school by themselves. These have been wonderful lifelong traits for our children to learn.
We are very much looking forward to the return of the close level of community engagement and involvement that we all enjoy so much, within the next few days.
It will be great to see you soon back on our site, we are aiming for Wednesday for Te Totara to be open at Alert Level 1.
Thank you so much for your ongoing support as we navigate our way into the next phase of this journey.
Ngā mihi
Anne Fraser
Principal
Te Totara Primary School
---
ERO Report
In November 2017, ERO visited our school. This is the Government agency that reviews all schools to examine the quality of education provided.
Click the link to view the details of the report.