School Lunch Service
We are excited to offer a school lunch service. Our school lunch supplier is LunchOrders who are based in Hamilton. School lunches are delivered to our school every day for children's lunches at 12.25pm.

How it works:

Order online anywhere, anytime on any device.
Healthy food made with love from a team of experienced chefs.
Affordable solution providing nourishment for your child with ease.
Sign up for a free account.
Orders in daily before 8.30am and lunches will be delivered to school that same day.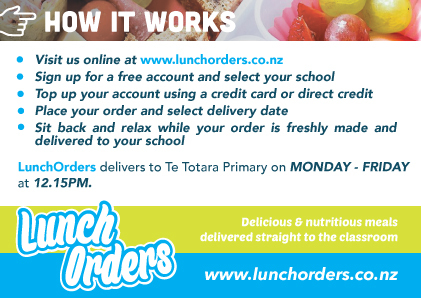 LunchOrders' Frequently Asked Questions
By what time do I have to place the order to ensure it gets processed in time?
The cut off times for same day delivery is 8:30am. Orders won't be able to be entered for that day after this time.
How does my child receive the order?
The school has a system in place to distribute the LunchOrders from the school kitchenette to your child's classroom. That is why it is essential to supply us with your child's room number.
What time does the order get dropped off at my child's school?
Orders are delivered at 12.25pm.
Who prepares and supplies the food?
Our food is prepared by chefs at our certified commercial kitchen on Dominion Rd in Hamilton.
How far in advance can I place an order?
You can order up to around a month in advance. However payment will be processed and deducted from your account as soon as you place the order.
My child has left school. How do I refund my account credit?
Email us at info@lunchorders.co.nz and request for your money to be refunded to your bank account. We will refund the money overnight through a direct transfer.
How do you pay for the orders?
Your LunchOrders account gets topped up through a credit card and the money in the account is then used to pay for the order.
Are the Credit Card facilities secure?
We use SwipeHQ to process our credit card payments. To read more about the security of their facilities click here.
How do I update my child's delivery details?
Once you've logged in you can update your child's delivery details under the 'My Account' tab .
I've lost my password. How do I retrieve it?
Simply click on the 'forgot your password' link when you go to log in and you will be able to generate a new password.